The U.S. Dollar index is slightly corrected down in the morning after raising rates in Turkey
On Tuesday, the Dollar index (
USDIDX
) rose on anticipations of reductions in the program of the U.S. Treasury bonds buying by $ 10 billion to $ 65 billion per month. Today at 19-00 GMT (0) we expect the Fed to announce its decision about this matter. Raising the interest rates is expected. Fed had earlier stated that it could happen if the unemployment rate falls below 6.5 %, while the inflation stays below 2%. Recall that in December, the unemployment was above the target level and amounted to 6.7%. The Turkey Central Bank raised interest rates. This has strengthened the Turkish lira by 4.1% and also strengthened other currencies of developing countries. Accordingly, the U.S. Dollar index is slightly corrected down in the morning. Among the currencies of developed countries, the strengthening of the Australian Dollar (
AUDUSD
) can be noted. It is often considered as a replacement of liquidity assets of developing countries.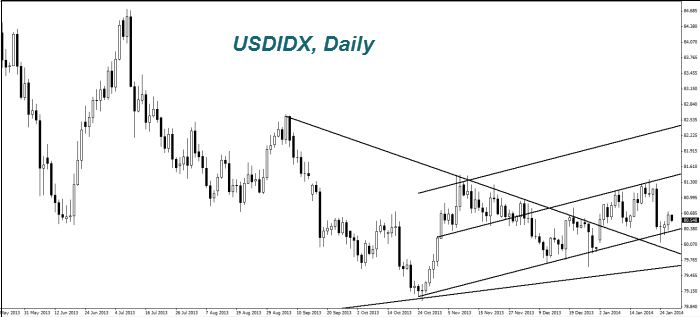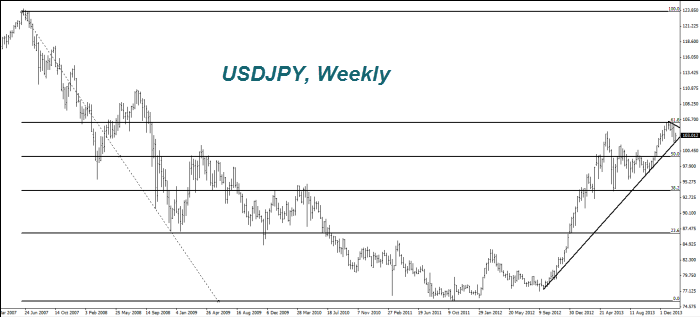 As it was expected, the Japanese Yen (
USDJPY
) and Swiss franc (
USDCHF
) got weak (growth on the chart) after the rate hike in Turkey. Today at 23-50 GMT (0), we expect the economic data from Japan. We believe that the preliminary forecasts are negative for the yen. The British Pound (
GBPUSD
) has not changed. Yesterday's GDP figures coincided with the forecasts. Market participants expect the head of the Bank of England speech, which will take place today at 13-15 GMT (0). It is assumed that he may give a hint of raising the interest rates in the UK in the near future. The natural gas price (
NATGAS
) and the oil price (
OIL
) in the United States rose on an increasing demand because of the extreme cold. Today at 15-30 GMT (0), we expect the data on oil and petroleum products in the U.S.. According to the EIA the Crude Oil reserve is expected to increase by 2.25 million barrels, gasoline - by 1.6 million and decrease in distillate stocks by 2.55 million barrels is also expected. We believe that in case the forecast is justified, then the cost of WTI may be corrected downwards. The U.S. natural gas now costs about $ 175 per thousand cubic meters. It costs more than double price in Europe. We believe that in case of reducing the shale gas production in the U.S., the cost of the (NATGAS) contract has a considerable potential for growth not depending on the weather conditions in America. The cost of soybean (
SOYB
) fell after Brazil published its crop forecast for the current year - 89.5 million tons. It was 500 tonnes higher than the official USDA forecast. In addition, market participants expect a good soybean harvest in Argentina due to increased rainfall in the northern and central parts of the country.
---
Note: This overview has an informative and tutorial character and is published for free. All the data, included in the overview, are received from public sources, recognized as more or less reliable. Moreover, there is no guarantee that the indicated information is full and precise. Overviews are not updated. The whole information in each overview, including opinion, indicators, charts and anything else, is provided only for familiarization purposes and is not financial advice or а recommendation. The whole text and its any part, as well as the charts cannot be considered as an offer to make a deal with any asset. IFC Markets and its employees under any circumstances are not liable for any action taken by someone else during or after reading the overview.