Structure
PCI Components and their volume
Swipe table
Parameters
PCI main trading conditions
Swipe table
The volume to calculate Swap and 1 pip value
1000
Margin in USD for the volume and leverage of 1:100
679.10 USD
Application field
How can PCI be applied in trading?
The personal composite trading instrument &BRENT/EUR is used for trade and dynamics analysis of Brent Oil vs Euro, as well as multi-year comparative analysis of various popular investment assets quoted against euro. For example, by building a percentage chart in the NetTradeX terminal for three instruments &BRENT/EUR, XAUEUR и DE30 (German stock index in eurо ) (Рict. 1), it is evident that two periods stand out in the last five years: from October 2009 to April 2013 the investments in gold and oil yielded approximately equal returns (up to 80-100%); but from the summer of 2013 to the autumn of 2014 the investments in stock market and oil provided equal returns (about 70%), while investments in gold yielded considerably lower return of 40%.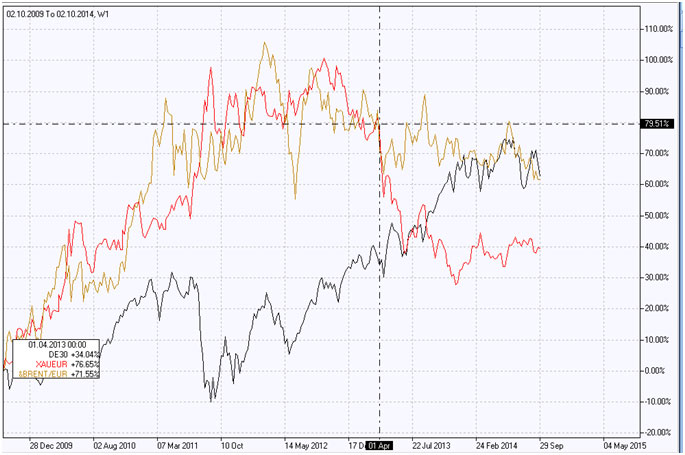 Traders, whose main assets and investments are denominated in euro, will be comfortable trading this PCI.