Structure
PCI Components and their volume
Swipe table
Parameters
PCI main trading conditions
Swipe table
The volume to calculate Swap and 1 pip value
1
Margin in USD for the volume and leverage of 1:100
0.20 USD
Application field
How can PCI be applied in trading?
This personal trading instrument &Indices_EU is used for the dynamics analysis and trade of the broad portfolio of European stocks, multi-year comparative analysis of the behavior of popular exchange indices, as well as comparing the indices' dynamics with that of our portfolio. For example, by building a percentage chart in the NetTradeX terminal for three instruments DE30, FR40, GB100 and our index portfolio &Indices_EU (Fig.1), it is evident that during the three year period (2012-2014) the index portfolio as well as the German DE30 and French FR40 indices grew steadily. The British stock index GB100, quoted in pounds, has not been growing for a whole year. Moreover, the German index DE30 is growing at substantially higher rate than other indices.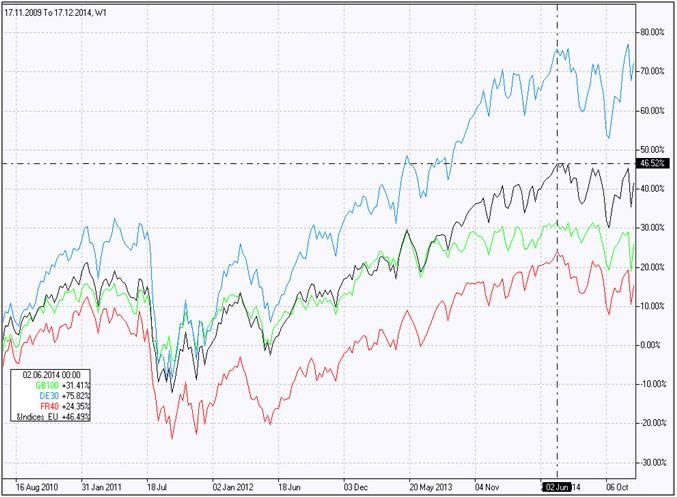 Traders, who specialize in European stocks and want to smooth the price volatility of separate stocks, will be comfortable trading this PCI.