Structure
PCI Components and their volume
Swipe table
Parameters
PCI main trading conditions
Swipe table
The volume to calculate Swap and 1 pip value
1
Margin in USD for the volume and leverage of 1:100
21.73 USD
Application field
How can PCI be applied in trading?
This personal trading instrument &RUS10 is used for the dynamics analysis and trade of the portfolio of Russian stocks (biggest issuers), multi-year comparative analysis of the behavior of popular stocks, as well as comparing the world stock indices' dynamics with that of our index. For example, by building a Daily percentage chart in the NetTradeX terminal for 4 stock indices SP500, DE30, NIKKEI и &RUS10 (Fig.1) the dynamics of stock markets in USA, Europe, Japan and Russia during one year period (from October 2013 to October 2014) can be studied and compared.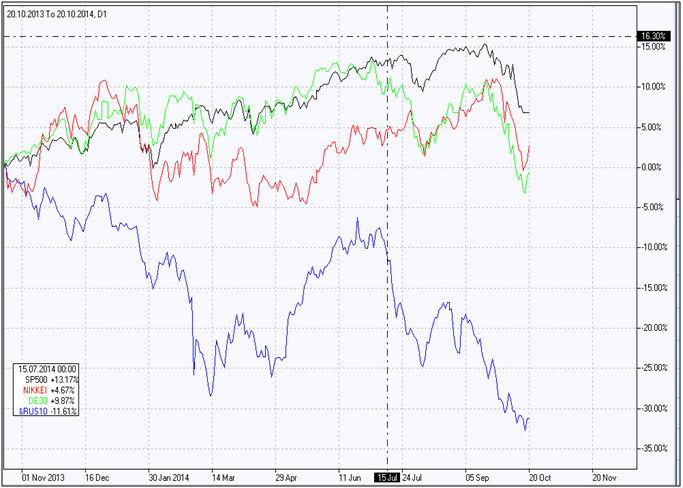 Traders, who specialize in stock market indices and want to smooth the price volatility of separate stocks, will be comfortable trading this PCI.
The Daily percentage chart is also convenient for comparing the performance of separate stocks and the index (Fig.2) – for example, the &RUS10 index fell by 31% in 1 year, but the Norilsk Nickel (#R-GMKN) stocks gained 7% while the stocks of AFK Systems (#R-AFKS) dropped 70% during the same period.