Structure
PCI Components and their volume
Swipe table
Parameters
PCI main trading conditions
Swipe table
The volume to calculate Swap and 1 pip value
100
Margin in USD for the volume and leverage of 1:100
16.57 USD
Application field
How can PCI be applied in trading?
The personal composite trading instrument &XAGJPY is used for trade and dynamics analysis of silver against the Japanese yen, as well as for multi-year comparative analysis with the popular instrument XAGUSD. For example, by building a percentage chart for two instruments &XAGJPY и XAGUSD ( Fig. 1) in the NetTradeX terminal, it is evident that in the last 2-year period (since April 2013) the fluctuation dynamics of silver against the JPY was almost identical to that of silver against the USD, while in the last year the silver against JPY decline in percentage terms was substantially smaller than the decline in silver against the USD.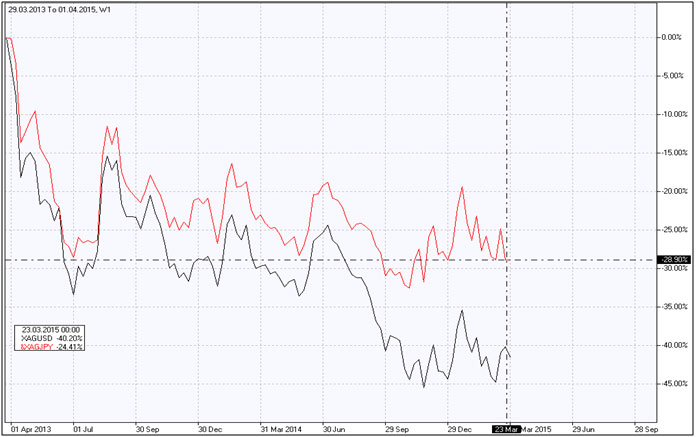 Fig.1
Traders, whose main assets and investments are denominated in Japanese yen, will be comfortable trading this PCI.